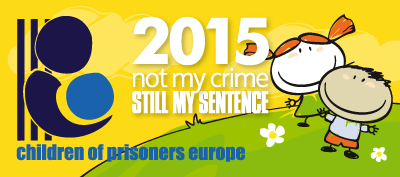 www.notmycrimestillmysentence.org
Children of Prisoners Europe (COPE) is a network of non-profit organisations, professionals and academics working to support children separated from a parent in prison. With 28 members in 16 countries across Europe, COPE aims to promote and protect the rights of children with imprisoned parents and to ensure that these rights—as enshrined in the UN Convention on the Rights of the Child (UNCRC) and the European Convention on Human Rights—are taken into account.
Each year in June, the network launches a month-long campaign to raise awareness about the issue of children with imprisoned parents. This year, the campaign targets not only the general public but also important decision-makers such as the "Child Rights Champions" (Members of the European Parliament who have signed the Child Rights Manifesto). The campaign aims to create a platform for open dialogue and learning as well as a forum for decision-makers to demonstrate their support for the cause.
Ordinary children dealing with unusual life circumstances.
Children of imprisoned parents have committed no crime yet are often seen in the same light as their parents. The separation of a child from a parent in prison can cause many difficulties before, during and after the imprisonment of a parent. These can include instability; disruption of the child-parent bond; feelings of guilt, fear and shame; stigmatisation; violence (e.g., bullying or witnessing a parent's violent arrest); and social exclusion from their community and their peers. Our focus is on the child: their wellbeing and their bond with their imprisoned parent, in whatever form it takes. We aim to guide and support the child's experience so that having a parent in prison does not predetermine a negative path for the child, a path which policymakers assume is a predictor for an increase in criminal behavior or the development of mental health issues.
Since children with imprisoned parents are children first and foremost, and children like any other, no two experiences of parental imprisonment are alike. There are over 800,000 children with an imprisoned parent in Europe which means that there are over 800,000 individual and unique experiences. These children can have many different reactions to the imprisonment of their parent, including some that may be contradictory to those of other children who are in a similar situation. Decision-makers tend to place all children with imprisoned parents in the same box and tend to format policy based on that assumption. What we need to do is pay attention to the children's varying needs and wishes, to put those needs at the forefront of our agendas and to allow them the space to express themselves in their own words. This right is afforded to them in Article 12 of the UNCRC: the child's right to express their opinion and to have it taken into account in all matters concerning them. It is time to start listening.

We call on you to listen to these children. We call on you to take action on their behalf. We call on you to pledge your support for the campaign and children of imprisoned parents.

Contact details
For more information on the 'Not my crime, still my sentence' campaign contact Hannah Lynn on +33(0)1 42 53 71 85 or hannah.lynn@networkcope.eu
For media enquiries contact Claudia Vogg on +33 (0)1 42 53 71 85 or claudia.vogg@networkcope.eu
The 2015 'Not my crime, still my sentence' campaign has been generously funded by LUSH France and their Charity Pot moisturiser. Children of Prisoners Europe is extremely grateful to LUSH France for their support.