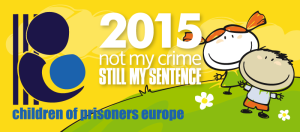 In June, we launched the 2015 edition of our annual campaign "Not my crime, still my sentence". We kicked off the campaign with the launch of the site www.notmycrimestillmysentence.org. Our main campaign tool, a new campaign animation in five languages (English, French, Dutch, Italian, and Norwegian), was a great success and was avidly shared on social media. The video just scratches the surface of the many different emotions that the 800,000 children in Europe  experience during their parent's imprisonment. The reactions these children have shows the complexity of emotions experienced and gives us a starting point to begin to listen.
This year, we partnered with the French section of ethical cosmetics company LUSH. Their fantastic Charity Pot moisturiser will sport the COPE logo in store over the next few months. On 13 June, LUSH threw COPE a "Charity Party" at their Rue de Renard boutique in Paris where we raised awareness for the campaign, handed out information flyers and showed the French-language video.
As part of the campaign, COPE also designed and printed 500 beautiful "pledge cards" in 6 languages, each with a child's drawing on the front. We asked our members to help the children of prisoners they support fill out the back of each card with one change or wish they'd like to see to improve their experience of having a parent in prison. These wishes range from "longer visits" and "visits outside school hours so I don't have to miss class" to "I wish I could play video games with my Dad" and "I wish my Mum could have special leave to come to my birthday party". The pledge cards are addressed to those MEPs who are Child Rights Champions as a follow-up to paragraph 13 of the European Parliament resolution on the 25th anniversary of the UN Convention on the Rights of the Child.