We have jotted down a non-exhaustive list of books suitable for children age 3 and up which deal with the issues affecting children with imprisoned parents.
Please note that prices mentioned below are only an indication and can be subject to change.
The following books are available to order from Action for Prisoners' Families.
---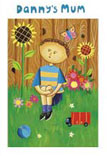 Illustrated by Lesley Saddington. for 3-6 year olds.
Price £3. 2004. (24 pages)
Danny's Mum is the story of Danny whose mother is sent to prison. It explores his feelings of loss and confusion. Through friends at school and others, Danny begins to talk about his mum and look forward to her return.
---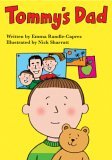 Tommy's Dad – by Emma Randle-Caprez 
Illustrated by Nick Sharratt. For 4-7 year olds
Price £3.00 2005 (24 pages)
Tommy's Dad is the story of a young boy and his sister whose father is sent to prison. It explores their feelings of loss, anger and frustration at not being told what's going on, until their mother finally decides to take them to see their dad.
---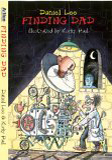 Finding Dad – by Dan Lee
Illustrated by Korky Paul. For 8-11 year olds.
Price £4.50 2005 (136 pages)
Finding Dad tells the story of 8-year-old James Orchard who turns detective to find out the truth about his dad, who disappears with the police early one morning. James' mum will only say that he has gone on a secret mission, sending James off into his imaginary world as he tries to track dad down.
---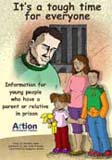 It's a Tough Time for Everyone
by Deirdre Sloan, Barnardos (N. Ireland) and John Farrelly
Price £2.00 per copy. Free to prisoners' families.
This comic-style colour magazine is aimed at the older child who has a parent or relative in prison. A must for any young person coping with this difficult situation.
---

My Daddy is in Jail by Janet Bender
Story, Discussion Guide & Small Group
Age 5- 11, Activities for Grades K to 5. Price $17.95
My Daddy is in Jail offers professionals and caregivers resources for providing information and support in helping young children cope with the incarceration of a loved one.
---
Visiting Day – by Jacqueline Woodson
Illustrated by James Ransome.
Age 4 – 8 , Price $18.95
On visiting days, a little girl and her grandma take the long bus ride to visit her father. On the ride they share food and hope and give comfort to others who make the trip with them. The waiting is hard, but Grandma and the little girl count their blessings and wait for the time when daddy will be back home.
---
Ce poste est aussi disponible en: Français