1 June 2016
"Not my crime, still my sentence"
COPE's pan-European campaign kicks off today!
Today, more than 15 countries across Europe are launching the annual awareness-raising campaign "Not my crime, still my sentence" for the 7th year running. Coordinated by Children of Prisoners Europe (COPE)—a European network working to improve the lives of children with imprisoned parents—the campaign aims to raise awareness about the rights and needs of these children and will run throughout the month of June. Across Council of Europe countries, an estimated 2.1 million children are separated from an imprisoned parent on a given day. Yet few people are aware of the dramatic impact a parent's incarceration can have on a child.
Children with imprisoned parents frequently face challenging life circumstances and shouldn't be punished for the offences of their parents. Unfortunately, the rights of these children are repeatedly overlooked, often in the name of security. Allowing children to maintain regular contact with their parents in a supportive and child-friendly environment can improve their chances of a healthy, productive adult life and help maintain the child-parent bond. Urgent action is needed to provide support for these children and to promote their rights enshrined in the United Nations Convention on the Rights of the Child.
"I wish I could hug my Dad"
"I wish visits were longer"
"I wish we could play outside together"
Often, simple solutions can vastly improve the experiences of children affected by parental incarceration when visiting their parents. Italy presents a remarkable best-practice model that sets an example for how other countries can ensure these rights. In 2014, COPE's member organisation Bambinisenzasbarre, which represents the estimated 100,000 children of imprisoned parents in Italy, signed a "Memorandum of Understanding" with Italian Minister of Justice Andrea Orlando and the National Ombudsman for Childhood and Adolescence. The memorandum is an agreement concerning the protection of the rights of children with imprisoned parents. This ground-breaking charter formally recognises the right of these children to maintain direct contact with their parents in prison while reiterating the prisoner's right to be a parent.
Each year, numerous actions take place across Europe to mark the campaign "Not my crime, still my sentence". Last year, COPE's Dutch partner Exodus Nederland organised a highly successful "Day of Action" for children with imprisoned parents, during which young adults with experiences of parental incarceration submitted a "10 point" wish list to Dutch Parliamentarians. In Norway, COPE member For Fangers Pårørende organised the opening of an exhibition in Oslo displaying a selection of photos taken inside a prison by children of prisoners. The Scottish organisation Families Outside helped increase awareness and raise money by holding a traditional ceilidh – an event filled with music, dancing and raffle prizes.
Lucy Gampell, COPE president, said: "It is easy to forget that the process of imprisonment starts well before the prisoner's arrival at the gate. First there is the arrest, then the decision over pre-trial detention, the trial itself and then the sentence… but the impact on children doesn't end there; it continues throughout the sentence and after release." Speaking of the campaign, Liz Ayre, COPE director, added: "The campaign is an important annual opportunity to draw public attention to the situation of children affected by parental incarceration and encourage actions which would improve their lives."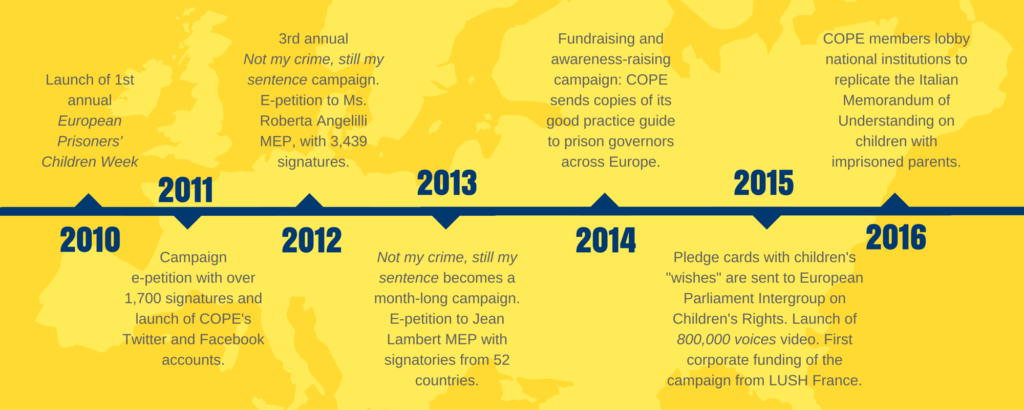 We invite you to support the campaign "Not my crime, still my sentence". Follow us on Facebook: https://www.facebook.com/networkcope/?fref=ts and on Twitter using #notmycrimestillmysentence.
Find out what's happening across Europe: http://childrenofprisoners.eu/campaign/
Please watch and share our latest video "It's time to act": http://childrenofprisoners.eu/videos/its-time-to-act/
Have a look at the full text of the Memorandum of Understanding to see what we stand for: http://childrenofprisoners.eu/about-us/memorandum-of-understanding/
For further information, please contact:
Campaign & Press Relations
Hannah Lynn
Children of Prisoners Europe
4-6 rue Charles Floquet
BP 38
92122 Montrouge
France
hannah.lynn@networkcope.eu
+33(0)1 42 53 71 85
About Children of Prisoners Europe (COPE)
Children of Prisoners Europe is a pan-European network which works to ensure that the rights of children with imprisoned parents are fully respected and that action is taken to secure their well-being and healthy development.
­­­­