Campaign Focus I: Positive solutions for improving prison visits for children
Every June, Children of Prisoners Europe (COPE) holds a pan-European campaign on behalf of children with imprisoned parents entitled, "Not my crime, still my sentence". Promoting UNCRC Article 12, one of the main goals of the 2017 campaign is to give children a space to communicate their views to prison directors in order to improve the prison visiting experience.
Fostering child participation empowers children to become competent partners in society as both children and as future adults. Giving them a platform to voice their opinions about their experiences visiting prison and to have those opinions heard can improve their relationship with their parents in prison, as well as boost their well-being, self-esteem and development.
To gather the children's views, COPE members (in the Netherlands, Poland, Scotland, England & Wales, Italy, France and Sweden) held workshops and discussion groups with children to talk about prison visits. Some children filled out the expression cards during or after a visit. Questions included, "What do you like about prison visits?", "How do you feel when you visit your parent in prison?" and "What would make visiting better for you?".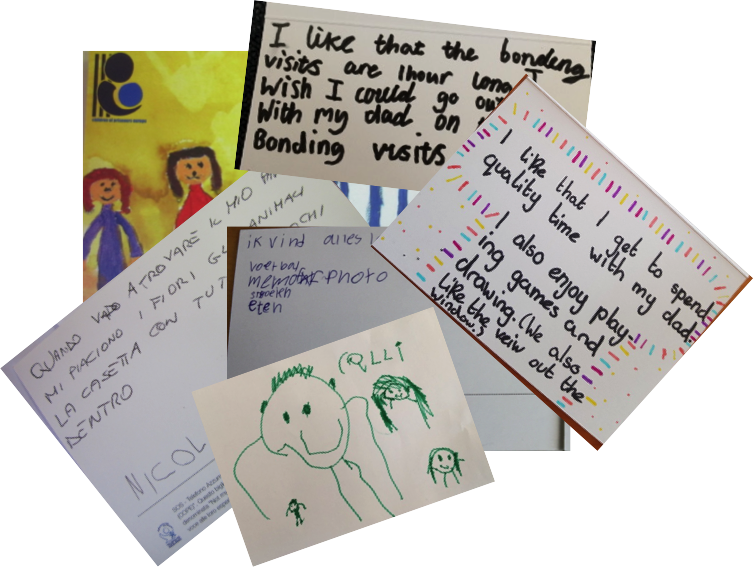 The aim was to move away from the negative language often used in talking about the issues relating to the prison visiting environment for children. By focusing on positive experiences and progressive solutions, the COPE campaign aims to credit good practice initiatives and to focus on solutions co-constructed by prison directors, staff and children. Children all have different experiences of prison visits. Yet there are overlaps in experiences that span across Europe.
Citing long journeys to and from the prison, as well as time wasted waiting in queues for security, many children interviewed wished for more time with their parent and to be able to physically interact with them. In some contexts, prisoner parents are not allowed to leave their chair, nor touch or hold their children. Physical contact, privacy, clear information, a calm atmosphere and shared activities can help children feel at more at ease when visiting their parent in prison.
Now that the cards have been filled out by the children, they are being delivered to the prison directors to better inform the prisons what they are doing well, and things that they can improve upon to continue to improve the children's prison visits.
We hope that the children's opinions can provide insight into the positive changes that need to be made to improve their experiences when they visit their parent in prison. By using children's experiences to influence policy changes, we can better understand and work toward creating a more positive experience for all children visiting their parent in prison.
To view the full list of quotations from children from across Europe, click here.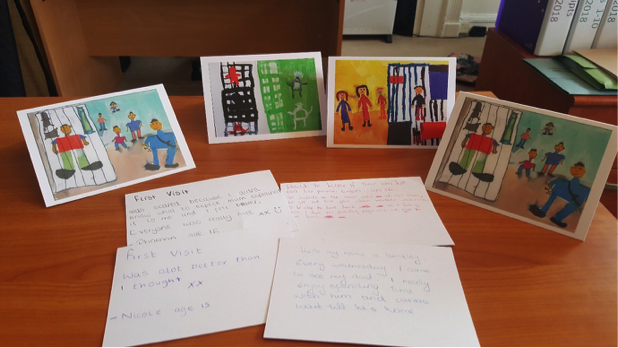 "I like that Dad can come over and make things with me—usually he has to stay in his seat." – England / Wales
"The relaxed atmosphere makes my time with my Mum seem more normal." – England / Wales
"I like that I get to spend quality time with my Dad. I also enjoy playing games and drawing. We also like the view out of the window." – Scotland
"I like the garden, the games, the books." – Italy
"I enjoy doing crafts and making things in the visits for my Dad to take back with him." – England / Wales
***
"I wish there was a visitors' centre so we wouldn't have to wait outside. I would like an outside play area or for the inside to be made to look like the outside." – England / Wales
"I wish the place was happier, rather then dull and scary." – England / Wales
"I only get to see my Dad once a month, because it is so far from our home." – Netherlands
"I wish I could go outside with my Dad." – France
"The dogs came too close. It made me scared." – England / Wales
"You are not allowed to wear your cardigan or poncho. It would be better if we were told the rules of what to wear before we went." – England / Wales
"I would rather go climbing or for a walk with my Mum. But that's not possible, so I try not to think that this is a prison and that I am just with my Mum." – Poland
"I wish visits were longer as I don't get enough time to spend with my Dad." – Scotland
"I want windows and mats and wish I could have a bath with Dad. I wish there were pillows, so that we could build a cosy hut." – Sweden
"We have to drive 3 hours in traffic to get up here. It is such a long day. I hate it. Also, when I get up here, I only get to see my Mum for a bit then I have to go again." – England / Wales
"I would like to be able to see the whole prison one time." – Netherlands
"I would like to change the way we wait in the waiting rooms: it takes too long." – France
To view the full list of quotations from children from across Europe, click here.