Naples has one airport (Capodichino), with daily flights from many international destinations.
There are two options to get from the airport to the city centre:
TAXI
The taxi area is outside the arrivals terminal. Transfer time takes around 30 minutes. There is a fixed fare of 19.00 euro/€ to Piazza Municipio (Castel Nuovo conference venue). We recommend only using licensed taxi cabs and to ask for the fixed fare at the beginning of the journey.
BUS
The bus company is called ALIBUS. The journey takes around 30 minutes. Departures are every 20 minutes from the area outside the arrivals terminal. The bus stop is marked with an ALIBUS sign. A one-way bus ticket costs 4.00 euro/€ and it is possible to buy the ticket on board the bus. The bus stops in 2 different places in the city centre: the first stop is at the central station (Stazione Centrale); the second stop is at Molo Beverello/Porto. For those staying at the hotels recommended by COPE, you should get out at the second stop: MOLO BEVERLLO/PORTO. From this stop, it is just 5-10 minutes walking to the Piazza Municipio (Castel Nuovo). For those staying at Palazzo Salgar, the only hotel outside the city centre, we recommend taking a taxi to and from the airport.
Bus departure times (from airport to centre):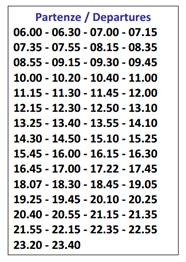 TRANSPORT
FROM
TO
LENGTH
COST
TAXI
Outside arrivals terminal
Piazza Municipio
30 min
19,00 euro/€
AUTOBUS ALIBUS
Outside arrivals terminal

every 20 min.

Molo Beverello
30 min
4,00 euro/€
PALAZZO SALGAR HOTEL to CASTEL NUOVO (conference venue)
Taxi
To Castel Nuovo
Around 10 min
5-7 euro/€
Bus 151 or 154
To Molo Beverello (5-10 min walk to Castel Nuovo)
Around 10-15 min
1 euro/€
GETTING AROUND IN NAPLES:
Getting around in Naples is possible either on foot, by taxi (around 5-7 euro/€ for a 10 minute journey), or by bus line 151 or 154 direction MOLO BEVERELLO. The Castel Nuovo / Piazza Municipio is around a 5-10 minute walk from Molo Beverello. Bus tickets cost 1 euro/€ for a single fare.