Children of Prisoners Europe network is supported by a generous grant from the Bernard van Leer Foundation, and by contributions from donors like you!
An estimated 1 million children in Europe are affected by parental incarceration each year. They are vulnerable to instability, disruption of the vital child-parent bond, and violence—bullying at school, witnessing a parent's violent arrest. Meeting their multiple needs involves an array of criminal justice, police, prison, educational and welfare sectors.
Your donation permits us to provide support tools for these children, as well as for those who come into contact with them and make decisions that affect their lives. It also helps us develop communication tools for raising awareness and making sure that these children are placed higher up on policy agendas. We've worked hard these past few years to make this a reality—children with a parent in prison now appear on EU and UNICEF lists of vulnerable children. This is a great step forward, but more needs to be done.
And we can't do it without you!
Please join us in giving voice to the 1 million children with a parent in prison in Europe.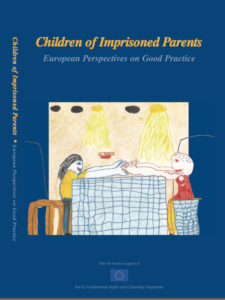 We are currently running a combined awareness-raising and fundraising campaign which allows us to share our research on good practice relating to children of prisoners to relevant decision makers across Europe.
Donate 15 euros to inspire change:
On your behalf (or anonymously if you wish) we'll send our latest Good Practice Guide to help prison governors, child rights activists, NGOs, policymakers, and others support children of imprisoned parents.
Our goal is to send 500 books to inspire change.  Please help us reach our target!
Maybe you would like to do even more?  Helping us will boost the support for children of imprisoned parents. So if you can support our work by making a donation, of any amount, we would be very grateful.
On behalf of the children of imprisoned parents across Europe, we would like to thank you for supporting their cause and ours.
Ce poste est aussi disponible en: Français